Brundibár Arts Festival: The Artists 2018
Katya Apekisheva is one of Europe's most renowned pianists, in demand internationally as both a soloist and as a chamber musician. Since becoming a prize-winner in the Leeds International and Scottish Piano Competitions and collecting awards such as the London Philharmonic 'Soloist of the Year' and the Terence Judd Award, she has been marked out as a pianist of exceptional gifts, performing with many of the world's leading orchestras, including the London Philharmonic, the Philharmonia, the Halle Orchestra, the Moscow Philharmonic, the Jerusalem Symphony, the English Chamber Orchestra and the Royal Philharmonic Orchestra, working with conductors such as Sir Simon Rattle, David Shallon, Jan Latham-Koenig and Alexander Lazarev.
As a recording artist, Katya has received widespread critical acclaim for her interpretations. Her recording of Grieg solo piano works in .....
More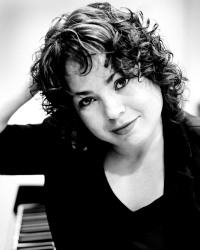 Aviv String Quartet

The winner of the Grand Prix and 4 special prizes at the 3rd Melbourne International Chamber Music Competition (1999, Australia), 1st Prize "Amadeus Prize" at Charles Hennen Competition (Holland 1999), Schubert Prize at Schubert Competition (2003, Graz, Austria), 2nd Prize (no 1st Prize awarded) and the International Critics Prize at Bordeaux String Quartet Competition (2003, France) , 2nd Prize at Prague Spring Competition (1998 Czech Republic).
The Aviv Quartet has performed at leading venues throughout the world, including Carnegie Hall and Alice Tully Hall (New York), Kennedy Center and The Library of Congress (Washington), Sydney Opera House, Cologne Philharmonie, Vienna Konzerthaus, Wigmore Hall and Royal Festival Hall (London), Louvre Auditorium,Theatre du Chatelet and Theatre de la Ville (Paris), Beethovenhaus (Bohn). ....
More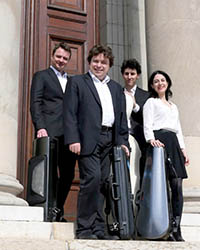 Dr Ian Biddle
Specialist in Music of the Holocaust
Ian Biddle is a cultural theorist and musicologist, working on a range of topics in music- and sound-related areas. His work ranges from the cultural history of music and masculinity, theorising music's intervention in communities and subjectivities, sound, soundscapes and urban experience, and the politics of noise. He works in particular on music in the Holocaust and music in the Soviet gulag. He is co-founder and co-ordinating editor (with Richard Middleton) of the journal Radical Musicology. His recent books include Music and Identity Politics (Ashgate, 2012) and Cultural Histories of Noise, Sound and Listening in Europe, 1300-1918 (Routledge, 2016). He is currently Head of Music at Newcastle University.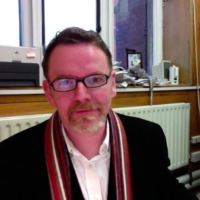 Jan Bradley
Percussionist/Composer
Jan Bradley is a freelance percussionist based in Manchester UK. He plays for various orchestras including the Hallé, Royal Liverpool Philharmonic, Royal Northern Sinfonia, Opera North, BBC Philharmonic, City of Birmingham Symphony orchestra and Manchester Camerata.
As well as performing regularly as an orchestral percussionist, he is also known for his work with 4-MALITY Percussion Quartet. Jan has been part of the quartet since it was formed in 1999. Since then the quartet have performed extensively around the UK and have also been fortunate to give concerts in Ireland, Finland, Germany, Belgium, France, Turkey, Spain, Australia and Taiwan.
He is also a composer and arranger, primarily for percussion. although he has in addition written for Trumpet, Voice and a percussion concerto with full orchestra.
His works have been performed worldwide, including at ....
More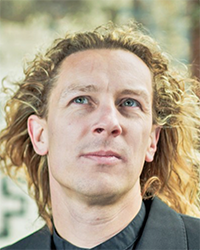 Krzysztof Chorzelski
Viola
Krzysztof Chorzelski was born in Warsaw in 1971 and enjoys a diverse career as a performing musician that has taken him all over the world as violist of the acclaimed Belcea Quartet, chamber musician and soloist.
In 1992 he won the Wronski Solo Violin Competition in Warsaw and has subsequently performed as a recitalist and concerto soloist in Europe, making recordings for Polish Radio and the BBC. In 1996 became the viola player in the Belcea Quartet. Krzysztof is a viola professor at the Guildhall School of Music and Drama London.
Krzysztof works as a chamber music partner with Quatuor Ysaye, Quatuor Ebene, Pavel Haas, Jerusalem and Skampa Quartets and artists such as Stephen Kovacevich, Piotr Anderszewski, Christian Zacharias, Polina Leschenko, Katya Apekisheva, Henning Kraggerud and Natalie Clein. In 2006 he was invited by the Alban Berg Quartet to perform as a guest violist .....
More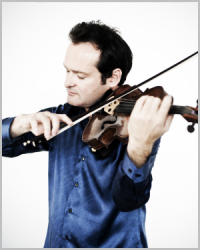 Bradley Creswick has a long association with Royal Northern Sinfonia going back to 1984 when he was first appointed leader.
The musical life then, as now, was amazingly rich and varied, providing some personal highlights such as the EMI recording of Vaughan Williams' 'The Lark Ascending' and Concerto Accademico with Richard Hickox, performing Prokofiev's Concerto no.2 for Radio 3 and recording all the Handel op.6 Concerti grossi with George Malcolm. More recent recordings include: Handel Concerti grossi op.3 for Naxos and the Sinfonia Concertante for Violin and Viola by Mozart with the Zurich Chamber Orchestra. In 1987 Bradley moved to London to lead the Philharmonia, still maintaining his relationship with the Sinfonia, making guest appearances, notably as soloist with them in the 1989 BBC Proms playing 'The Lark Ascending'. The London years continued as leader of the Orchestra of the Royal Opera House before taking the opportunity, in 1994, to return to the ....
More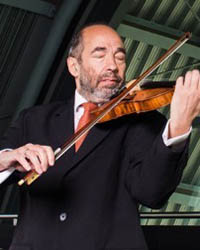 Czigány Quartet

The Czigány Quartet was formed in September 2017 by postgraduate students from the Royal Academy of Music. In the short time that they have been playing together, the Czigány Quartet have been accepted onto the Royal Academy's prestigious Davey Posnanski Quartet Scheme, through which they are mentored by Garfield Jackson, violist of the Endellion Quartet. The quartet also receive tutelage from Jon Thorne, Levon Chilingirian, John Myerscough (of the Oculi Ensemble, Chilingirian Quartet, and the Doric String Quartet respectively). The Czigány Quartet are members of the contemporary group the Manson Ensemble, and as a result were chosen to perform in a project which included Andrew Norman's "Try", as well as collaborating with composition students. ....
More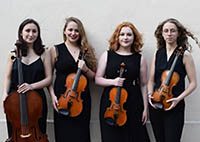 Soprano Julia Hamon has recently been described as 'showing much promise'(MusicOMH) and regarded as an 'accomplished' young soprano (Seen and Heard International). Julia was recently a Christine Collins Young Artist with Opera Holland Park singing the role of Donna Anna in Mozart's Don Giovanni. Ms. Hamon will make her debut in summer 2019 with Opera Holland Park as Brigitta in Tchaikovsky's Iolanta.
Julia's recent opera engagements include her debut at Cadogen Hall, London as Berta in Rossini's The Barber of Seville, premiering the role of Titania in the new opera A Garden Dream by Glyndebourne's Composer-in residence, Lewis Murphy and her Glyndebourne debut as 1st Bridesmaid in Mozart's Le Nozze di Figaro. ....
More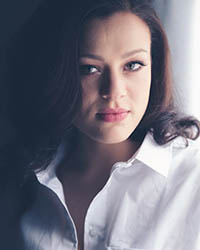 Training and skills:
Trained at A.L.R.A 3 year acting course, Sorrell Carson Stockton Billingham Tech, Foundation drama, 2 yrs. Ken Parkin Fencing (Most Bladed weapons) A.F.A Basic coach Foil, Epee, Sabre. Eskrima (stick fighting). Martial arts: Basic Kung Fu, (Sholin Golden Fist) Karate (Wado Ryu) Progressive combat. Archery. Guitar. Video Production. Juggling, Stilt walking.
Film credits include:
| | | |
| --- | --- | --- |
| The Boy on the Bus | Simon Pitts | Flourishing Pictures |
| Harrigans Nick | | Tall Trees Films |
| Sleepworking | Gavin Williams | Hook Pictures |
More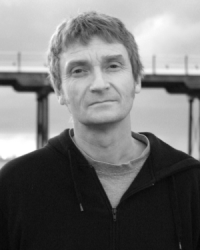 Ryan Hepburn
Steven Reich Specialist
Ryan Hepburn read Music at Cambridge University, where he was Organ Scholar of Robinson College. He studied organ with David Sanger, and subsequently with Dame Gillian Weir and Thomas Trotter, and piano accompaniment with Michael Dussek (Royal Academy of Music). For the past 10 years, Ryan has worked as a freelance keyboardist and conductor, with artists such as Kathryn Jenkins, Steve Reich, Sir Tim Rice, and for the Royal Family, and, more recently, as a musicologist specialising in contemporary American classical music. His 2016 prize-nominated PhD from Newcastle University on Steve Reich's trauma works was supervised by David Clarke, Paul Attinello and Susan McClary, and examined by Pwyll ap Sion (Bangor University) and Ian Biddle (Newcastle University).Ryan now lives in Brighton, from where he combines an active performance career with working in the immensely enjoyable capacity of Head of Keyboard and Percussion at Brighton College. His on-going research into Steve Reich's music has most recently been featured in the Oxford University Press's companion to Musical Minimalism.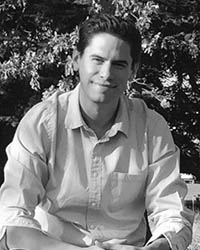 Robert Hersey
Theatre Director
Robert studied Music at Newcastle and Acting and Directing at The School of the Science of Acting and the National Theatre in London. He has worked extensively in London and the North of England as Head of Theatre in Colleges, Theatre in Education, Youth Theatres and Community Theatre projects. He has directed many plays and music theatre but has a particular passion for early and Contemporary Opera. He is also a singer, instrumentalist and conductor working with and directing various early music ensembles touring the UK . He is presently working with Edinburgh Studio Opera on Gianni Schicchi and Dido and Aeneas for March 2018.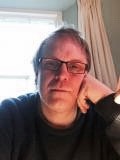 Yoshie Kawamura was born in Japan in 1984, and has been a resident in the UK since the age of 11. She completed both her undergraduate and postgraduate studies at the Guildhall School of Music and Drama as a pianist, studying with Joan Havill. She then continued her music studies for a further 3 years at the Musikhochschule Freiburg in Germany, with Professor Mishory. In 2013, Yoshie returned to the UK to begin her second Masters Degree in Cultural Management at Northumbria University, Newcastle upon Tyne, where she is now based. As a pianist she has given many performances worldwide including; Germany's 200th year of celebration for Chopin, at Freiburg Musikhochschule, recitals at Luzern Marianischer Saal, Lunchtime Concert Series at Berliner Philharmoniker, and the International Stichting Apeldoon Festival in the Netherlands. She was also invited to join the Berlin Philharmonic Quartet in performing Schumann's .....
More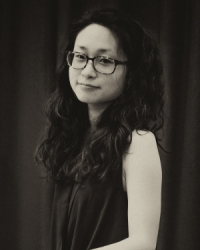 Joseph Phibbs was born in London, and studied at The Purcell School, King's College London, and Cornell University. His teachers have included Param Vir, Sir Harrison Birtwistle, and Steven Stucky.
His works have been premiered by some of the world's leading conductors, including Esa-Pekka Salonen, Leonard Slatkin, Vassily Petrenko, Gianandrea Noseda, Sakari Oramo, and Edward Gardner. Rivers to the Sea, premiered by Philharmonia Orchestra/Salonen, received widespread critical acclaim in 2012, winning the orchestral category of the 2013 British Composer Awards. A more recent orchestral work Partita (a joint BBC/Koussevitzky Music Foundation Award commission) was premiered by BBC Symphony Orchestra/Sakari Oramo in 2016.
His first large-scale concerto for clarinet, commissioned by Mark van de Wiel and the Philharmonia Orchestra, received its London premiere...
More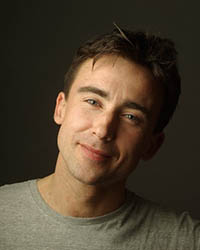 Alexandra Raikhlina
Violin
Alexandra Raikhlina was born in Moscow in 1983 and moved to Belgium in 1990. Aged 13, she was Laureate of the 'Charles de Beriot' competition in Belgium, before being awarded a place at the Yehudi Menuhin School, where she studied with Natalia Boyarsky. Later she received a full scholarship for both her undergraduate and postgraduate studies at the Guildhall School of Music and Drama, studying with David Takeno and Krzsisztof Smietana. Alexandra has performed extensively as a soloist and chamber musician in Belgium, Switzerland, Russia, Greece, Hong-Kong and throughout the United Kingdom. She has appeared as a soloist and chamber musician at the Wigmore Hall, Barbican Hall, Queen Elizabeth Hall, Fairfield Halls and Sage Gateshead. Alexandra has performed as a soloist with the London Symphony Orchestra, Royal Northern Sinfonia, Epsom Symphony Orchestra, Richmond Symphony Orchestra and .....
More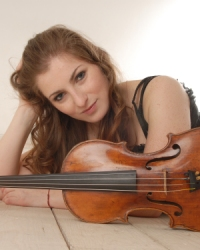 James was born in Cheltenham and grew up near Bristol, where he took up the viola at his local primary school, following strong encouragement from his mother. He spent several years learning with Richard Crabtree, then earned a place at The Royal Northern College of Music in Manchester with Nick Logie and Roger Benedict whilst beginning to work with the major orchestras of the north of England. After graduating in 1999, he completed a postgraduate diploma and received the Certificate of Professional Performance . The next year, James' partner, Chrissie, also a viola player, took a job with the BBC National Orchestra of Wales in Cardiff. James moved with her and continued to freelance, working with most of the country's orchestras.
Following the birth of their first child, James and Chrissie moved to the north east when James took a position with Royal Northern Sinfonia. He's closing in on a decade of service now and .....
More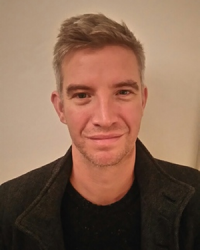 Liubov Ulybysheva was born in Moscow and started playing the cello at the age of five. Having studied at the Gnessin Special Music School and the Russian Music Academy, she came to London in 2003 to continue her studies at the Guildhall School of Music and Drama with Stefan Popov and Oleg Kogan, graduating with 1st class honours. Following that, Liubov completed a Master of Music Degree at the Royal Academy of Music with Professor Felix Schmidt, winning the Moir Carnegie Prize for cello on graduation.
Liubov became the only cellist to win a prestigious scholarship from the Paganini International Competition funded by the Investment Programme Foundation, Moscow. She was also featured in the Reader's Digest magazine as one of the young stars of the Russian Hope feature. In 2006 she won the First Prize at the Tunbridge Wells International Young Concert Artist Competition, followed by .....
More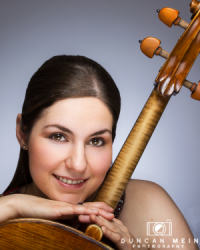 Gabriel comes from Chichester in West Sussex. He started learning the cello, aged eleven, with Nigel McNestrie and later Sophie O'Flynn who are now married to each other! In 1994 he gained a place to study with Eduardo Vassallo at the Royal Northern College of Music in Manchester. In 1999 whilst still at the RNCM Gabriel was a founder member of the Yeomans String Quartet. In 2001 the Quartet made the world premier recording of the String Quartet by Sir Arthur Sullivan and were semi-finalists at the Shostakovich String Quartet competition in Moscow.
After living in Glasgow for four years, enjoying a busy freelance career as orchestral and chamber musician, Gabriel joined the cello section of Northern Sinfonia. Gabriel is married to Jane Nossek , a violinist and also a member of Northern Sinfonia. They live in Low Fell with their daughters, Maria and Lydia.